Duhk Duhk Goose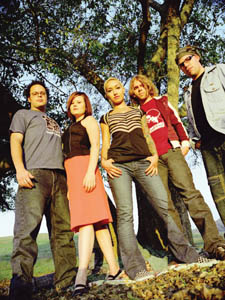 Today, I'd like to tell you about a Canada-based band that is perhaps the greatest genre-defying band I've heard. Imagine a collection of gospel-folk lyrics, then add a heavy dose of stringed instruments, and don't forget a whole lot of soul.
If you've followed the recipe carefully, then you've got The Duhks. Their 3rd release,
Migrations
, is very clear in its message. The songs on the album are mostly reinterpretations of a whole slew of songs: from old gospel melodies, to a poem about an Irish warrior, to modern folk songs (see Tracey Chapman). The middle of the album tends to drift into oblivion, and I'd be lying if I said that every song is unique and different. BUT, yes the "but", The Duhks definitely hit more than they miss. And ultimately, that's all that really matters.
"Moses Don't Get Lost" is one of the more empowering, soulful songs on the album and most definitely one of the standout tracks. "Ol' Cook Pot", a tribute of sorts to single mothers, is the lead track and it sets the tone for meaningful but slightly playful songs throughout the album.
Go out and buy
Migrations
damnit!
Listen to
Heaven's My Home
. Thanks to
MuseNashville
for this one.
Listen to
Moses Don't Get Lost
.